Daily Bible Nugget: A Website for Bible Studies, Health Tips and More
Welcome to Daily Bible Nugget, a website where you can find inspiring and practical content on bible studies, health tips and more. Our mission is to help you grow in your faith, improve your well-being and live a fulfilling life.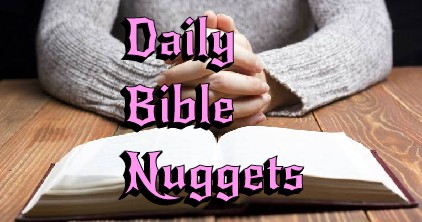 What is a daily bible nugget?
A daily bible nugget is a powerful message from the word of God that can nourish your soul, enlighten your mind and strengthen your spirit. It can be a bite-sized portion of scripture that you can meditate on, apply to your life and share with others.
Why do you need a daily bible nugget?
A daily bible nugget can help you in many ways, such as:
It can remind you of God's love, grace and promises for you.
It can give you wisdom, guidance and direction for your daily decisions and challenges.
It can inspire you to trust God, obey His commands and follow His will.
It can motivate you to love God, love yourself and love others.
It can equip you to serve God, use your gifts and fulfill your purpose.
How can you get a daily bible nugget?
You can get a daily bible nugget by visiting our website dailybiblenugget.com, where you can find various content on bible studies, health tips and more. You can also subscribe to our newsletter, follow us on social media to receive a daily bible nugget delivered to your inbox, phone or tablet.
Some examples of our content are:
Bible Study: A series of articles that explore different topics, themes and books of the bible, with insights, questions and applications for your personal or group study.
Health Tips: A collection of articles that offer advice, information and resources on how to improve your physical, mental and emotional health, with a biblical perspective and a holistic approach.
More: A variety of articles that cover other aspects of your life, such as relationships, finances, career, hobbies and more, with tips, stories and inspiration from the bible and other sources.
We hope that you will enjoy our content and find it helpful for your spiritual growth and well-being. We also invite you to share your feedback, comments and suggestions with us, as well as your testimonies, prayer requests and praises. We would love to hear from you and connect with you.
Thank you for visiting Daily Bible Nugget, a website for bible studies, health tips and more. May God bless you and keep you, and may His word be a lamp to your feet and a light to your path. Amen.